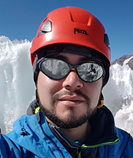 Graduate of Surveying Engineer, his thesis project aimed at the communal geopolitical analysis through geographic elements and its inter-relation with the voter registry through the elaboration and application of a cartographic model. Diploma in geographic information systems (GIS), extensive field experience with qualified work groups, he has worked in different areas of the private sector such as renewable energies (PV) and geological operations achieving compliance with safety and self-care in a dangerous environment such as mining, executing the capture of data from the mine pit front through photogrammetry for geological mapping and subsequent geo-mechanical study, as well as flow measurements and phreatic level of hydrogeological wells for modeling and study of water masses, capture of geo referenced samples of moraines for chemical analysis.

Among its main interests are the capture of data through GNSS, airborne flights (RPAs), photogrammetry, territorial analysis and geomatics in general, fulfilling above all with safety, quality and environment.

Rodrigo joins the Center for Scientific Studies at the beginning of 2019 with the aim of supporting the capture and analysis of data in the area of glaciology.