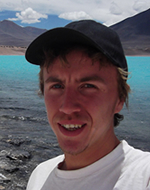 Thomas nació en Charleroi, Bélgica y se tituló de Geógrafo en la Universidad Libre de Bruselas. En 2010, se unió al laboratorio de glaciología como asistente de investigación. Se enfoca en monitorear las cambios glaciales y periglaciales en los Andes y en los Campos de Hielos Patagónicos. Parte de su trabajo involucra estudios de balance de masa y de hidrología glacial. En 2019 obtuvó su doctorado en geofísica en la Universidad de Bristol, Inglaterra, donde utilizó datos sísmicos para mapear fracturas en los primeros kilómetros de la corteza terrestre.
En Mayo de este mismo año, se reincorpora al CECs, donde se enfoca en el aporte hidrológico proveniente de los distintos cuerpos de hielo que se encuentran en los valles englaciados de los Andes.
PUBLICACIONES SELECCIONADAS
Bravo C., Loriaux T., Brock B., Rivera A. (2017). Assessing glacier melt contribution to streamflow at Universidad Glacier, central Andes of Chile. Hydrology and Earth System Sciences 21(7):3249-3266

Gacitúa G., Uribe J.A., Loriaux T., Hernandez J., Wilson R., Rivera A. (2015). Determination of internal and basal conditions of an heterogeneous glacier structure based on 50 MHz radar data, Annals of Glaciology 56(70), 193-201.

Casassa G., Rodríguez J.L., Loriaux T. (2014). A new glacier inventory for the Southern Patagonia Icefield and areal changes 1986-2000. Kargel, J.S., G.J. Leonard, M.P. Bishop, A. Kaab, and B.H. Raup (Eds.), Global Land Ice Measurements from Space: Satellite Multispectral Imaging of Glaciers, Praxis-Springer.

Loriaux T., Casassa G. (2013). Evolution of glacial lakes from the Northern Patagonia Icefield and terrestrial water storage in a sea-level rise context, Global Planet. Change, 102, 33–40.