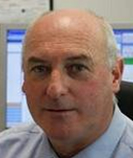 Brian Harvey posee títulos de pregrado en matemáticas, física y fisiología. Obtuvo su doctorado en biofísica de membranas bajo la supervisión de Roddy Kernan en la Universidad Nacional de Irlanda en 1982. Realizó sus estudios de postdoctorado en el Departamento de Energía Atómica de los Laboratorios de Biología Molecular en Villefranche-sur-mer, Francia, donde obtuvo un puesto permanente como Chargé de Recherche en 1986. Regresó a Irlanda en 1992 como profesor de fisiología celular y molecular en University College Cork, donde estableció una Unidad de Investigación en Fisiología Celular del Wellcome Trust. En 2002, fue contratado por el Royal College of Surgeons in Ireland (RCSI) como Profesor de Medicina Molecular en el Hospital de Beaumont en Dublín, período durante el cual adicionalmente fue nombrado Director de Investigación del RCSI. Además de sus cargos académicos, Brian fue el primer Vicepresidente de Investigación de la Universidad entre 1998 y 2010, la más prolongada permanencia en el cargo. Entre los años 2010 y 2017 fue Director de Investigación en el Instituto Internacional de Investigación DOCTRID.
Brian ha recibido diversos honores internacionales por sus logros académicos y por sus aportes en investigación. En 2006, fue nombrado Caballero de la Orden del Mérito Francesa por el Presidente de Francia y en 2016 fue distinguido con el título de Caballero de la Orden de las Palmas Académicas de Francia. En 2008, fue el primer ganador del Premio Servier Laureat Internacional. Fue nombrado Profesor Investigador Visitante en la Université de Paris Descartes en 2013.
En 2000, Brian fue elegido miembro de la Academia Europea de Ciencias y en 2007 fue designado socio de la Real Academia Irlandesa y miembro fundador de la Academia Irlandesa de Ciencias Médicas. En el año 2013, fue galardonado con un Doctorado en ciencias honoris causa por la Universidad Estatal de Michigan. Brian formó parte del Panel de Premios Avanzados del Consejo Europeo de Investigación entre 2008 y 2016 y fue Presidente del Consejo de Evaluación Científica de la Agencia Nacional de Investigación de Francia desde 2015 hasta -2017.
Su investigación actual se centra en los mecanismos celulares y moleculares de la acción de las hormonas esteroideas en la inflamación y el cáncer. Ha publicado más de 280 artículos en revistas científicas internacionales (ORCID Researcher ID orcid.org/0000-0002-7388-8034). Brian tiene una colaboración de larga data con el CECs y ha formado doctores y becarios de postdoctorado de Chile desde el año 2000.
PUBLICACIONES SELECCIONADAS
Bustos V, Nolan AM, Nijhuis A, Harvey H, Parker A, Poulsom R, McBryan J, Thomas W, Silver A and Harvey BJ. GPER mediates differential effects of estrogen on colon cancer cell proliferation and migration under normoxic and hypoxic conditions. Oncotarget. 2017; 8:84258-84275.

Rapetti-Mauss R, Bustos V, Thomas W, McBryan J, Harvey H, Lajczak N, Madden SF, Pellissier B, Borgese F, Soriani O, Harvey BJ. Bi-directional KCNQ1:β-catenin interaction drives colorectal cancer cell differentiation. Proc Natl Acad Sci USA. 2017 Apr 18;114(16):4159-4164.

Higgins, G., Torre, C.F., Tyrrell, J., McNally, P., Harvey, B.J., Urbach, V. Lipoxin A4 prevents tight junction disruption and delays the colonization of cystic fibrosis bronchial epithelial cells by Pseudomonas aeruginosa. (2016) American Journal of Physiology - Lung Cellular and Molecular Physiology, 310 (11), pp. L1053-L1061.

Humphreys, H., Fitzpatick, F., Harvey, B.J. Gender differences in rates of carriage and bloodstream infection caused by methicillin-resistant staphylococcus aureus: Are they real, do they matter and why? (2015) Clinical Infectious Diseases, 61 (11), pp. 1708-1714.

Yusef, Y.R., Thomas, W., Harvey, B.J. Estrogen increases ENaC activity via PKCδ signaling in renal cortical collecting duct cells. (2014) Physiological Reports, 2 (5), art. no. e12020, 15 p.

Drumm, B.T., Sergeant, G.P., Hollywood, M.A., Thornbury, K.D., McHale, N.G., Harvey, B.J. The role of cAMP dependent protein kinase in modulating spontaneous intracellular Ca2+ waves in interstitial cells of Cajal from the rabbit urethra. (2014) Cell Calcium, 56 (3), pp. 181-187.

Saint-Criq, V., Kim, S.H., Katzenellenbogen, J.A., Harvey, B.J. Non-genomic estrogen regulation of ion transport and airway surface liquid dynamics in cystic fibrosis bronchial epithelium. (2013) PLoS ONE, 8 (11), art. no. e78593.

Dooley, R., Angibaud, E., Yusef, Y.R., Thomas, W., Harvey, B.J. Aldosterone-induced ENaC and basal Na+/K+-ATPase trafficking via protein kinase D1-phosphatidylinositol 4-kinaseIIIβ trans Golgi signalling in M1 cortical collecting duct cells. (2013) Molecular and Cellular Endocrinology, 372 (1-2), pp. 86-95.

Rapetti-Mauss, R., O'Mahony, F., Sepulveda, F.V., Urbach, V., Harvey, B.J. Oestrogen promotes KCNQ1 potassium channel endocytosis and postendocytic trafficking in colonic epithelium. (2013) Journal of Physiology, 591 (11), pp. 2813-2831.

Pedram, A., Razandi, M., O'Mahony, F., Harvey, H., Harvey, B.J., Levin, E.R. Estrogen reduces lipid content in the liver exclusively from membrane receptor signaling. (2013) Science Signaling, 6 (276), art. no. ra36.

Mahony, F., Razandi, M., Pedram, A., Harvey, B.J., Levin, E.R. Estrogen modulates metabolic pathway adaptation to available glucose in breast cancer cells. (2012) Molecular Endocrinology, 26 (12), pp. 2058-2070.

Chotirmall, S.H., Smith, S.G., Gunaratnam, C., Cosgrove, S., Dimitrov, B.D., O'Neill, S.J., Harvey, B.J., Greene, C.M., McElvaney, N.G.Effect of estrogen on pseudomonas mucoidy and exacerbations in cystic fibrosis. (2012) New England Journal of Medicine, 366 (21), pp. 1978-1986.

Dooley, R., Harvey, B.J., Thomas, W. Non-genomic actions of aldosterone: From receptors and signals to membrane targets. (2012) Molecular and Cellular Endocrinology, 350 (2), pp. 223-234.

Alzamora, R., O'Mahony, F., Bustos, V., Rapetti-Mauss, R., Urbach, V., Cid, L.P., Sepúlveda, F.V., Harvey, B.J. Sexual dimorphism and oestrogen regulation of KCNE3 expression modulates the functional properties of KCNQ1 K+ channels. (2011) Journal of Physiology, 589 (21), pp. 5091-5107.

Thomas, W., Harvey, B.J. Mechanisms underlying rapid aldosterone effects in the kidney. (2011) Annual Review of Physiology, 73, pp. 335-357.

Chotirmall, S.H., Greene, C.M., Oglesby, I.K., Thomas, W., O'Neill, S.J., Harvey, B.J., McElvaney, N.G. 17β-estradiol inhibits IL-8 in cystic fibrosis by up-regulating secretory leucoprotease inhibitor. (2010) American Journal of Respiratory and Critical Care Medicine, 182 (1), pp. 62-72.

O'Mahony, F., Thomas, W., Harvey, B.J.Novel female sex-dependent actions of oestrogen in the intestine. (2009) Journal of Physiology, 587 (21), pp. 5039-5044.

O'Mahony, F., Alzamora, R., Chung, H.-L., Thomas, W., Harvey, B.J. Genomic priming of the antisecretory response to estrogen in rat distal colon throughout the estrous cycle. (2009) Molecular Endocrinology, 23 (11), pp. 1885-1899.

McEneaney, V., Harvey, B.J., Thomas, W. Aldosterone regulates rapid trafficking of epithelial sodium channel subunits in renal cortical collecting duct cells via protein kinase D activation. (2008) Molecular Endocrinology, 22 (4), pp. 881-892.

Condliffe, S.B., Doolan, C.M., Harvey, B.J. 17β-Oestradiol acutely regulates Cl- secretion in rat distal colonic epithelium. (2001) Journal of Physiology, 530 (1), pp. 47-54.